Opening
Just now, Sumeng had talked about how to get out of comfort zone, but what if you can not get back? (Slow down and watch the audience with evil smiles) What if you feel anxious or nervous, even lost your self-confidence? ——(Wait for 2 seconds)—— Don't worry, Darwin will show you how to reassure yourself and get into flow experience.
Body
Gist 1: What is Flow Experience?
So, what is flow experience, anyway? It's a very happy and enjoyable personal experience. I say "personal" because the experience is private to yourself, not easily seen by others.
What does it feel like? When I first learned how to write a computer program, I suddenly realized that I can change the world by turning my mind into computer codes, so I became highly focused on that activity and just want to do it again and again and don't even want to eat or sleep…
Programming is just one example. You can have flow experience in reading books, doing sports or giving speeches in Toastmasters, etc. It is the exact feeling when you have learned a new skill for the first time, or when you understand and do something better than before. You feel greatly empowered, because you can get control of the situation around you, you want to devote yourself into it, totally forget about yourself and forget the worries of the future, simply enjoy the present moment.
Gist 2: How to Generate Flow Experience?
Okay, we know it feels fantasic, but how do we generate Flow Experience? It's easier said than done, because real world is more complicated than theory. To be honest, even me myself cannot enjoy flow experience everyday. But In principle there are two things we can do to make Flow Experience happen:
The first thing is: try to get Clear Feedback. take our spoken English for example: many of us want to improve our spoken English and be a better commuicator. If we want to get into Flow Experience while learning spoken English, then we need to try our best to have some real person to give us clear feedback.
The second thing is: choose a proper Challenge level. Try to make the challenge just a little bit higher than our current level. If we could do that, we can expect more Flow Experience to come. To help you remember, I have printed this picture for you———(show it to the audience)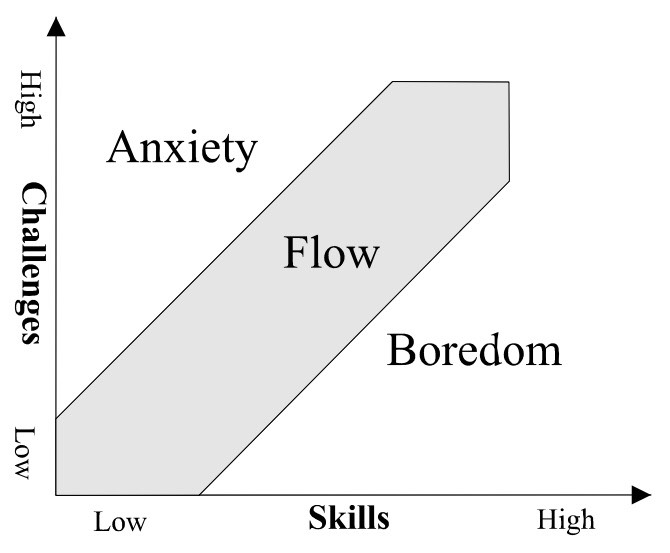 Gist 3: How do we know our Spoken English is improving?
The final question: how to apply it in our daily life? ———— In my opinion, flow experience can be a very good way to tell whether we are really improving, not by numbers or test scores, but by our inner feelings: if we can overcome one challenge after another and enter the enjoyable moments, then we know by ourselves that we are really improving. Don't you want to have a try?——(wait for 1 second)
Closing
Now you know what is flow experience and how to generate it ———— you need to get clear feedback and choose a proper challenge level, try to avoid anxiety and boredom, and enter flow experience in between. I hope everyone of you can look inside and get inner peace by doing this. If you are interested in my knowledge sharing and its follow-up topics, welcome to re-visit TMAIR and attend our future sessions.